Family Baking, Anneka Manning, author of Bake Eat Love. Learn to Bake in 3 Simple Steps and founder of Sydney's BakeClub, shares her delicious 'better-for-you' recipes for snacks, desserts and treats the whole family will love. Through both her writing and cooking school, Anneka teaches home cooks to bake in practical and approachable yet inspiring ways that assure success in the kitchen.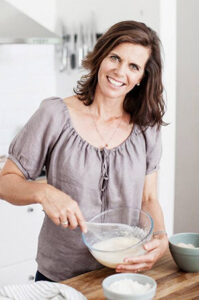 Toasted almond and blueberry muesli. 
Serve with milk and a dollop of Greek-style yoghurt for a satisfying and tasty breakfast that will take you through to lunchtime without the need to nibble. Recipe copyright Anneka Manning.
Makes 12 serves
Preparation time: 15 minutes
Baking time: 50 minutes
3 cups rolled oats
½ cup pumpkin seeds (pepitas)
½ cup sunflower seeds
1 cup shredded coconut
100g (3½oz) natural almonds, coarsely chopped
1 teaspoon ground cinnamon
½ cup unsweetened apple juice
2 tablespoons (40ml) single-origin floral honey
½ cup dried blueberries (see Baker's Tips)
¼ coarsely grated apple per person, to serve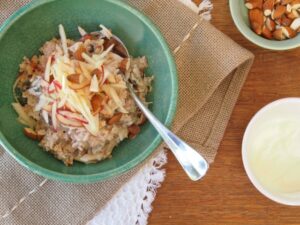 Photography by Georgie Esdaile
Preheat oven to 160°C (320°F). Line a large oven tray with non-stick baking paper.
Combine the oats, pumpkin seeds, sunflower seeds, coconut, almonds and cinnamon in a large bowl. Pour over the apple juice and stir until evenly combined. Spread evenly on the oven tray and then drizzle evenly with the honey.
Bake in preheated oven for 50 minutes, stirring about every 10 minutes, until evenly toasted and crisp (the muesli will crisp further once cooled). Remove from the oven and set aside to cool. Stir in the blueberries.
Serve with milk, yoghurt and apple or the fresh fruit of your choice.
Per serve 
1230 kJ / 295 calories; 8 g protein; 17 g fat (includes 4.5 g saturated fat; saturated:unsaturated fat ratio 0.37); 26 g available carbs; 5 g fibre
Variation: Almond and blueberry bircher muesli (for 3 serves) – combine 1½ cups of toasted almond and blueberry muesli, ¾ cup natural apple juice, 1/3 cup natural Greek-style yoghurt, and ½ large red apple (such as pink lady), coarsely grated. Cover and place in the fridge for 1 hour or until the muesli has soaked up the liquid and is creamy. Serve topped with yoghurt, coarsely grated apple and coarsely chopped toasted almonds. Keep any remaining muesli covered in the fridge for up to 3 days.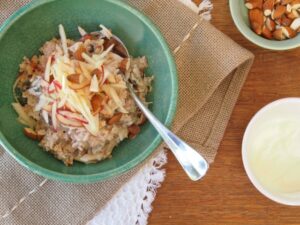 Photography by Georgie Esdaile
Baker's Tips 
Store the toasted muesli in an airtight container or jar for up to 1 month. 

You can use ½ cup currants in place of the dried blueberries. 

This muesli (without the blueberries) makes a wonderful crumble topping also. Reduce the baking time to 20 minutes and then store in an airtight container or resealable plastic bag in the freezer ready to be sprinkled over fresh seasonal fruit and baked into a crumble.
American dietitian and author of Good Carbs, Bad Carbs, Johanna Burani, shares favourite recipes with a low or moderate GI from her Italian kitchen. For more information, check out Johanna's website. The photographs are by Sergio Burani. His food, travel and wine photography website is photosbysergio.com.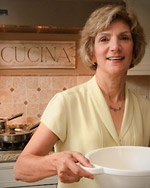 Broccoli rabe tricolore. 
'Tricolore' is how the Italians refer to their national flag. It has three colors: green white and red. And those are the colors you will see looking at you from this dish. Broccoli rabe is more popular in the US than it is in northern Italy so when I find it and make it for my friends in Friuli, they devour it! And don't be fooled: the simplicity of this recipe belies its full-bodied taste. To clean broccoli rabe, cut away about 2cm (1in) from the bottom of the stems and remove any discolored leaves. Makes 4 servings.
1 bunch broccoli rabe, cleaned
4–5 sun-dried tomatoes, cut in thin strips
¼ tsp salt
1½ tbsp good quality olive oil
30g/1oz ricotta salata, shredded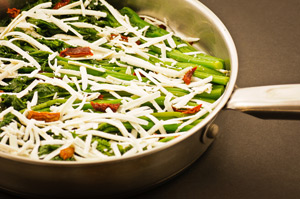 Place the broccoli rabe in a large sauté pan, add 1 cup water, cover and let simmer for approximately 8 minutes, or until stems are tender. Drain off all the water. Add the tomatoes, salt and oil. Mix well in the pan.
Transfer to serving dish. Top with prepared cheese. May be served warm or at room temperature.
Per serve
Energy: 530kJ/112cals; Protein 6g; Fat 7g (includes 1g saturated fat and 4mg cholesterol; saturated:unsaturated fat ratio 0.17); Available carbohydrate 7g; Fibre 4g
Apple and pear crumble. 
Everyone loves a crumble. BakeClub Anneka Manning's from The Low GI Family Cookbook is sure to become a family favourite. Serves 6
2 apples (such as Granny Smith, Golden Delicious or Royal Gala)
2 firm ripe pears (such as Williams or Packham)
2 tsp fresh lemon juice
Crumble topping
1/2 cup rolled barley or oats
30g (1oz) plain flour
1/2 tsp baking powder
1/2 tsp ground cinnamon
30g (1oz) canola or olive oil margarine
1 tbsp (slightly rounded) brown sugar
1/3 cup pecans, coarsely chopped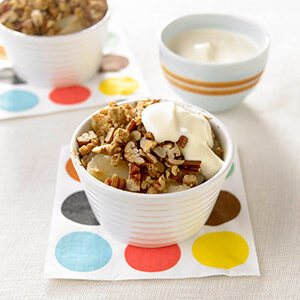 Preheat oven to 170ºC (325ºF/Gas 3).
Peel, quarter and core the apples and pears. Cut into thin slices, sprinkle with the lemon juice and toss to coat the fruit. Divide among 6 x 1/2 cup ovenproof dishes. Set aside.
To make the Crumble topping, process half of the rolled barley in a food processor until finely ground and resembling flour. Transfer to a medium-sized bowl. Sift the plain flour, baking powder and cinnamon together into the bowl over the barley 'flour'. Add the margarine and use your fingertips to rub in until evenly combined. Stir in the brown sugar, pecans and the remaining rolled barley. Sprinkle the Crumble Topping over the fruit in the dishes.
Bake for 30–40 minutes or until the topping is golden and the fruit is tender when pierced by a skewer. Serve the warm crumble with reduced fat yoghurt
Per serve
825 kJ/ 200 calories; 2.5 g protein; 9 g fat (includes 1 g saturated fat; saturated:unsaturated fat ratio 0.13); 25 g available carbs; 4 g fibre