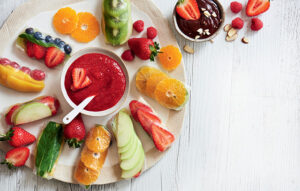 FRUIT RICE PAPER ROLLS
0:30 Prep • 12 Serves • Main • Every day
INGREDIENTS
Rice paper rolls
12 x 16cm rice paper sheets (see tips)
fresh mint (optional, see tips)
1 small green apple, thinly sliced
3 strawberries, thinly sliced
1 mandarin, peeled and thinly sliced
1 kiwifruit, peeled and thinly sliced
¼ small banana, peeled and thinly sliced
½ cup raspberries
¹/³ cup blueberries
1 small mango, thinly sliced
Chocolate sauce
100g 70% dark chocolate, chopped
1 tablespoon reduced-fat spread
2 tablespoons light cream
Strawberry sauce
1 cup strawberries
2 teaspoons sifted icing sugar
METHOD
In a small saucepan, over a very low heat, place chocolate, spread and cream and stir until melted, smooth and combined. Transfer sauce to a serving bowl. Set aside to cool. 
In a small food processor, blitz strawberries until smooth. Stir in icing sugar and transfer sauce to a serving bowl.
Half-fill a shallow dish with warm water. Soak 1 rice paper sheet in water until soft. Place on work surface. Place 1 mint leaf, if using, along edge of rice paper. Top with a selection of fruit (be careful not to overfill). Roll up, folding in the sides to enclose filling. Set roll aside and cover with a damp tea towel to prevent it drying out. Repeat with remaining rice paper sheets, mint leaves and fruit to make 12 rolls.
Serve fruit rice paper rolls with dipping sauces.
TIPS
Rice paper sheets are usually available in the Asian food aisle of your local supermarket.
You can use any frozen berries, instead of fresh, for the sauce. Thaw them before using. Fresh mint leaves can also be added to the sauce if desired.
If you don't wish to make dipping sauces, serve rolls with reduced-fat, Greek-style yoghurt or a drizzle of honey.
NUTRITION
Per serve 540kJ/129 Calories; 2g protein; 4g fat (includes 2g saturated fat; saturated : unsaturated fat ratio 1.0); 20g available carbohydrate (includes 11g sugars and 9g starch); 2g fibre; 90mg sodium
RECIPE AND IMAGE
Courtesy of Australian Healthy Food Guide magazine.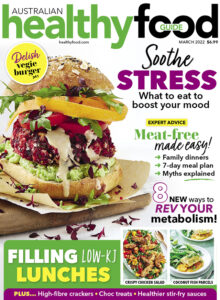 For more healthy recipe inspiration and expert advice, visit healthyfoodguide.com.au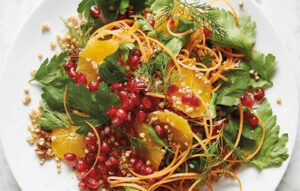 POMEGRANATE AND BUCKWHEAT SALAD
0:25 Prep • 4 Serves • Side • Every day
INGREDIENTS
1 cup buckwheat
2 teaspoon ras el hanout (see tip)
2 tablespoon olive oil, plus 2 tablespoons extra to drizzle
2 carrots, julienned or grated
2 oranges, peeled, pith removed and sliced into circles
large bunch fresh flatleaf parsley, leaves picked
small bunch fresh dill, fronds picked
handful fresh mint leaves, roughly chopped
1 pomegranate, seeds bashed out
METHOD
In a saucepan, cover the buckwheat with 1 2/3 cups water and bring to the boil, then simmer for 5–8 min until most of the water has been absorbed. Drain the buckwheat in a sieve and rinse with cold water, then drain again. Tip the buckwheat into a bowl and mix in the ras el hanout, oil and some freshly ground black pepper. Mix in the carrots and oranges.
Put the parsley leaves on to a serving platter, then mix through with the buckwheat. Scatter with the dill, mint and pomegranate seeds and give another mix before serving. Add a light drizzle of olive oil to serve.
TIPS
Ras el hanout is a spice blend usually cinnamon, cumin, coriander, allspice, black pepper, and ginger. Look for it in the spice aisle of your supermarket or in some specialty food stores.
NUTRITION
Per serve 1293kJ/309 Calories; 5g protein; 12.3g fat (includes 1.7g saturated fat; saturated : unsaturated fat ratio 0.2); 47.5g available carbohydrate (includes 15.1g sugars and 32.4g starch); 6.7g fibre; 79mg sodium
RECIPE AND IMAGE
Courtesy of Australian Healthy Food Guide magazine.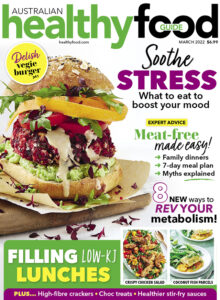 For more healthy recipe inspiration and expert advice, visit healthyfoodguide.com.au